No-contact operations, safety means
everything

COVID-19 has changed our way of living. No-contact operations will be crucial for the foreseeable future. Pudu Robotics provides multiple solutions to battle the negative impact from the pandemic. With true no-contact functions and double disinfection modules,Puductor 2, the UV cleaning robot combined with air disinfection machine, minimizes the risk of cross infection and improves sanitary condition for indoor environments.
Ultrasonic Dry Mist Disinfection
15L huge volume:
Customers do not need to replenish the disinfectant
solution frequently.
≤

10
μm
Dry Disinfectant Particles
10µm dry disinfectant particles ensuring full contact with microorganisms.
Nearly 100% coverage as whole room disinfection allows thorough disinfection of difficult-to-reach places.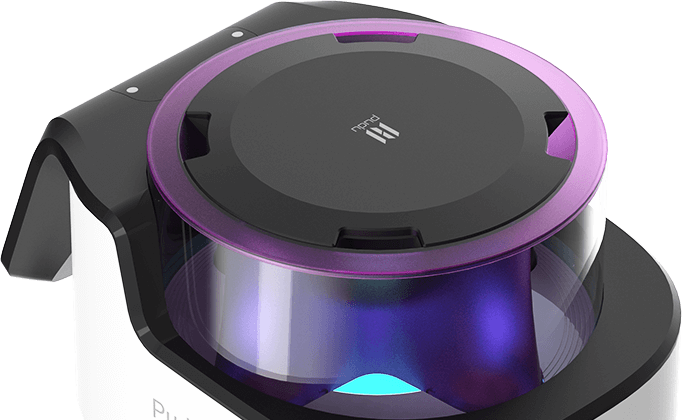 2.0
L/h
Max Atomization Rate
4 mist outputs(adjuestable):

According to the different application scenarios, the dry mist output can be conveniently adjusted to achieve excellent disinfection effect.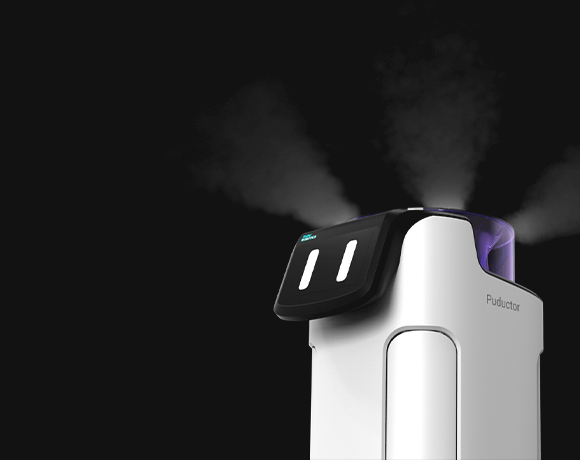 Ultraviolet C Disinfection
4 x 36w ozone-free UV lamp equipped, achieving an industry-leading ultraviolet illumination of 188μW/cm² at 1 meter. The UV-C lamp is highly effective against most types of bacteria and viruses, securing a 99.99% disinfection rate.
Intelligent UV-C Lamp Protector
Enclosed cabin with motorized interlocking mechanism, providing protection to the lamp while not operating
The total battery capacity is 51.2Ah, for a maximum disinfection time of up to 6h, which can support the disinfection of 12-15 rooms (20㎡/room). Puductor 2 is equipped with a docking station. To make sure that the robot is fully charged and ready for the next task, time saving as it requires no involvement from your staff.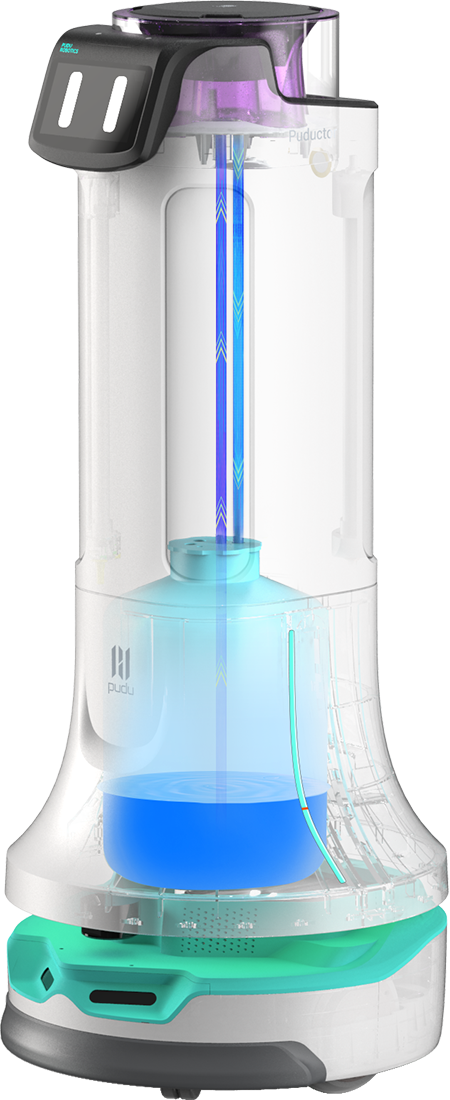 Liquid level safety detector in the ultrasonic chamber, the atomization would be terminated automatically when the liquid level is lower than the safety level.
Real-time liquid level protector in the solution tank, reminding user to replenish solution when the liquid level is low.
Equipped with millimeter wave motion sensor ,the robot will shut down the UV lamps and spraying automatically if it detects a person within 3 meters.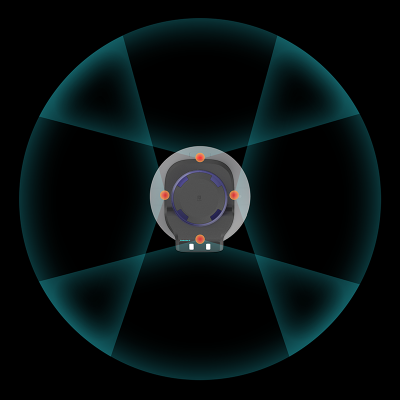 Remote Access:
remote terminal control of robot operation, task
management, and work report printing.
Automatic Work Report Generation:
work reports generated automatically, check
the disinfection status of target areas.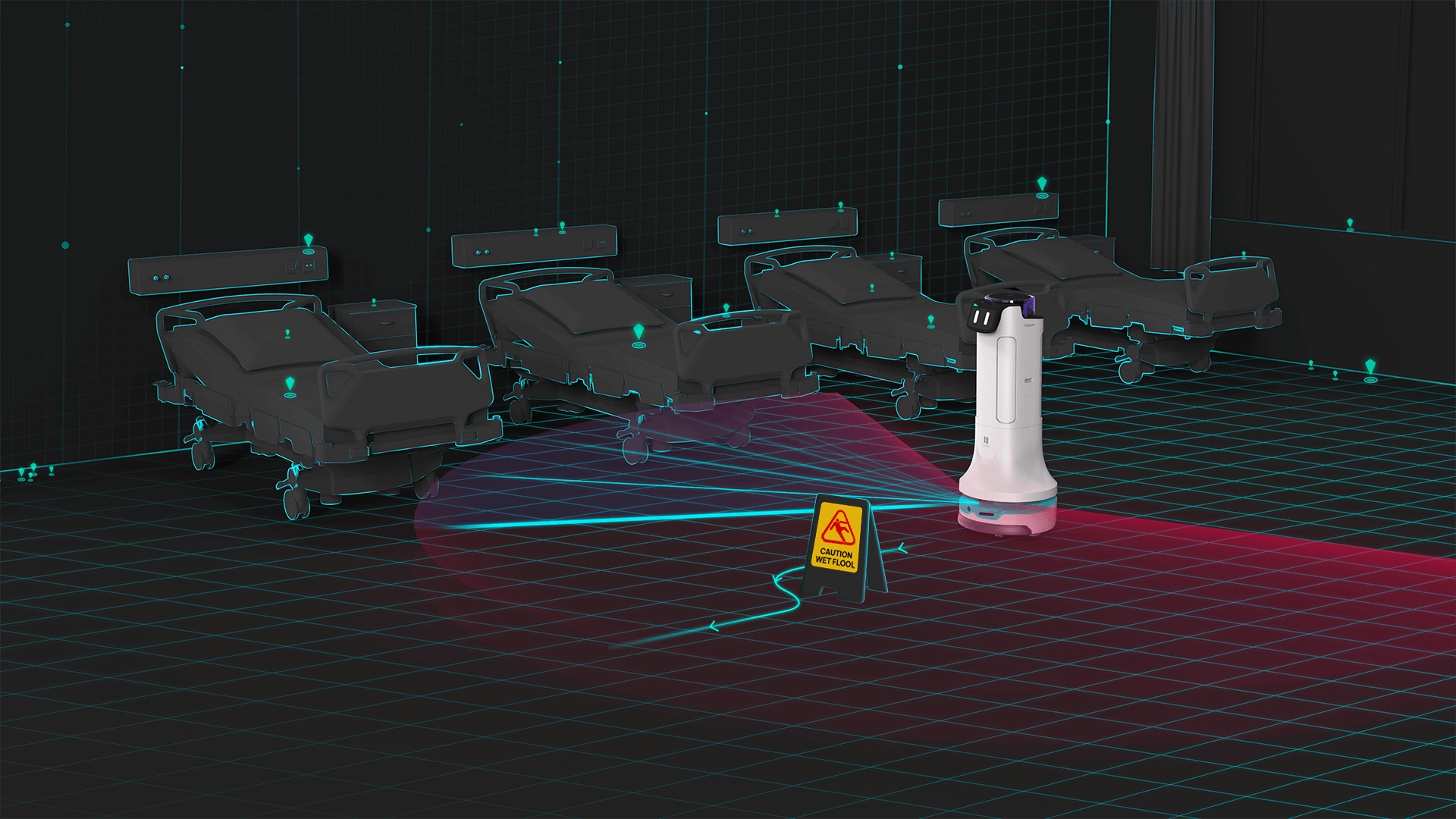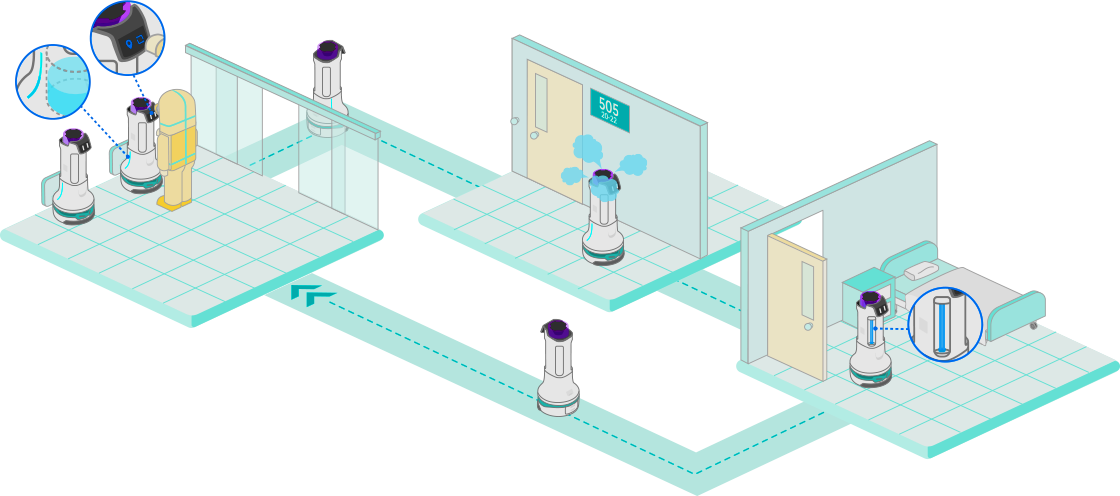 1. The staff checks the capacity of the disinfectant solution.
2. The staff sets disinfection tasks.
Cruise Mode: total disinfection time,driving path and disinfection method
Fixed-point Mode: single point/multi-point disinfection and disinfection method
3. Puductor 2 automatically reaches the initial point of work.
4. Puductor 2 begins to count down, and notifies people to stay away from the disinfection areas.
5. Puductor 2 completes the task as programmed or the staff terminates the task remotely.
6. Puductor 2 automatically returns to the charging dock.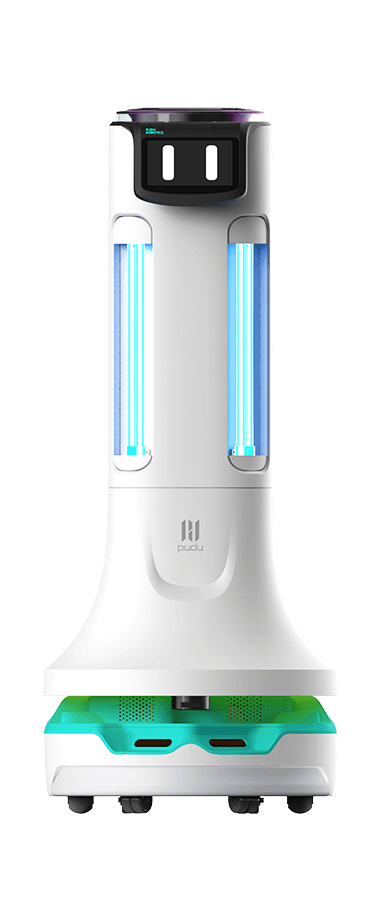 | | |
| --- | --- |
| Machine Dimension | 544x538x1290mm |
| Machine Weight | 60kg |
| Battery Capacity | 51.2Ah |
| Reservoir Capacity | 15L |
| Irradiation Intensity at one meter distance | 188 μW/cm² , UV-C(254nm) |
| Effective Disinfection distance | 3 meters |
| Disinfection Time | Max 6H (Automatic Recharging) |
| Cruise Speed | 0.1-1.2m/s (Adjustable) |
| Disinfectant Solution | Hydrogen Peroxide( H2O2),Hypochlorous Acid( HClO),Chlorine Dioxide(ClO₂),etc. |
| Working Voltage | 24V |
| Motion Sensor | Yes |
| UV-C Lamp Protector | Yes |
| Solution Inlet& Outlet | Yes |
| Max Climbing Angle | 5° |